Karl-Heinz Koob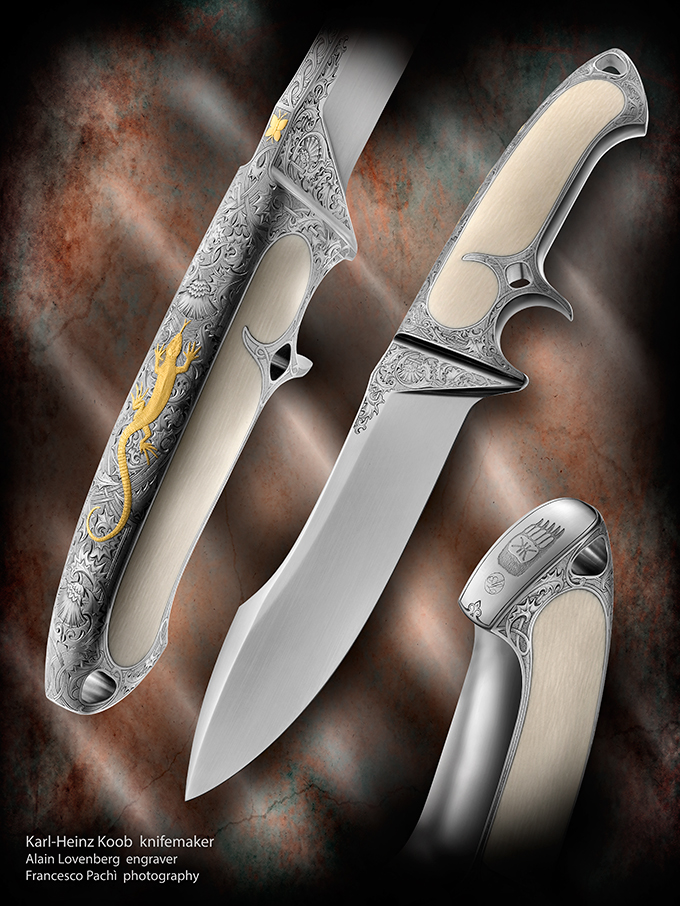 Full integral subhilt "Aquila" CPM420V (2017) – Ivory interframe handle – Alain Lovenberg engraving in Art Nouveau style with 22ct gold inlays – Stingray leathersheath – More pics : Engraving, Knife & sheath
Karl-Heinz Koob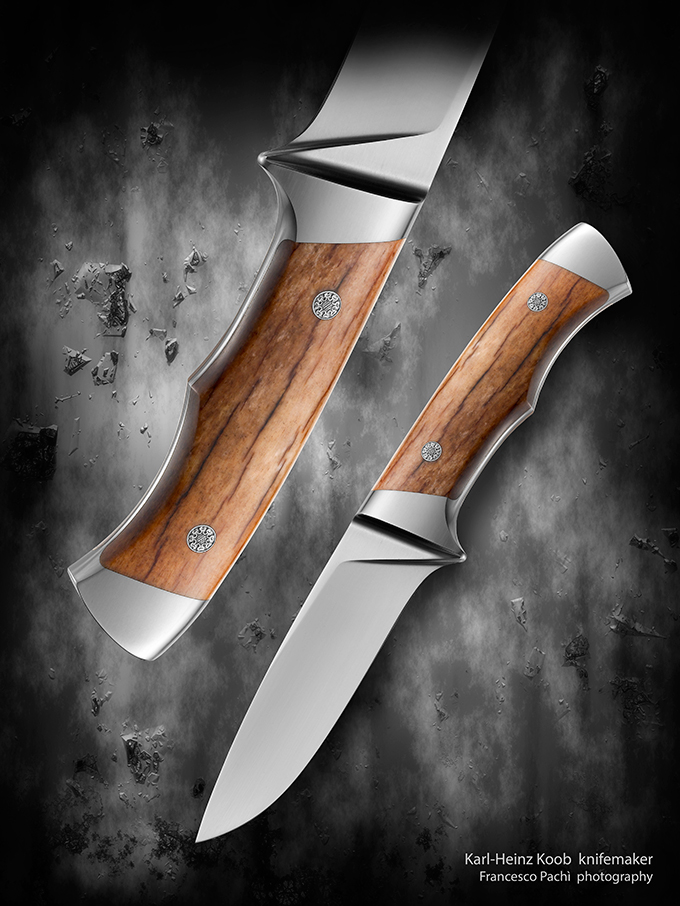 Full-integral hunter "Bitachon" (2006) – CPM T 440 V steel – Giraffe bone handle – Heinz Funck engraving – Leather sheath with titanium stud – More pics : alt view, knife & sheath
Siegfried Rinkes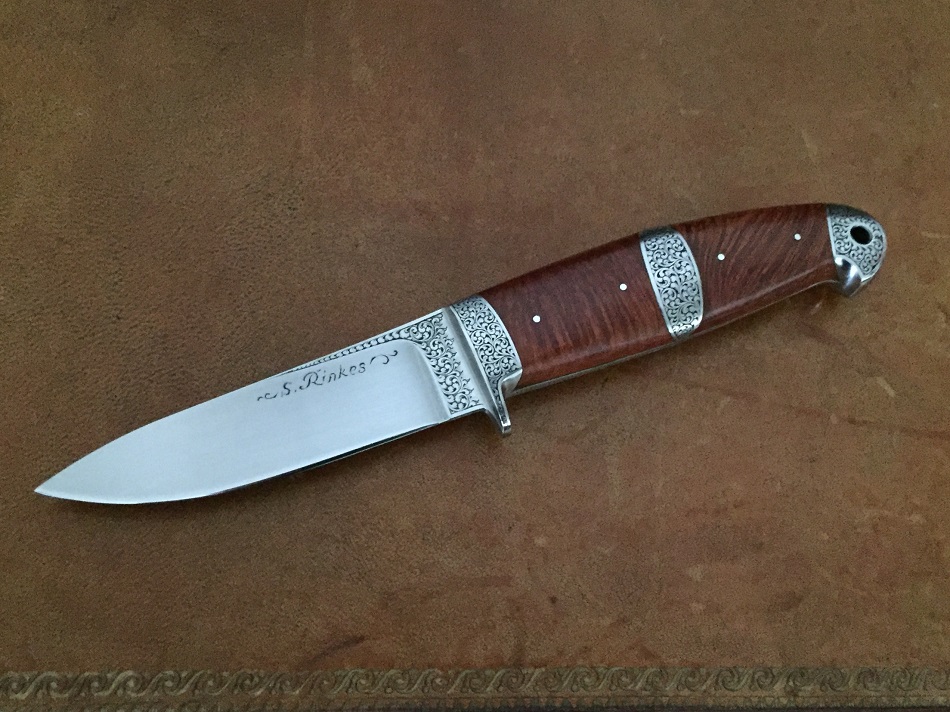 Full integral ATS 34 engraved Semi-Skinner Hunter – 1992 – Briar burl handle – Engraved by Manfred Funk (deceased) in English Scrolls style – Leather sheath.
Hill Knives (Frans & Albert van den Heuvel)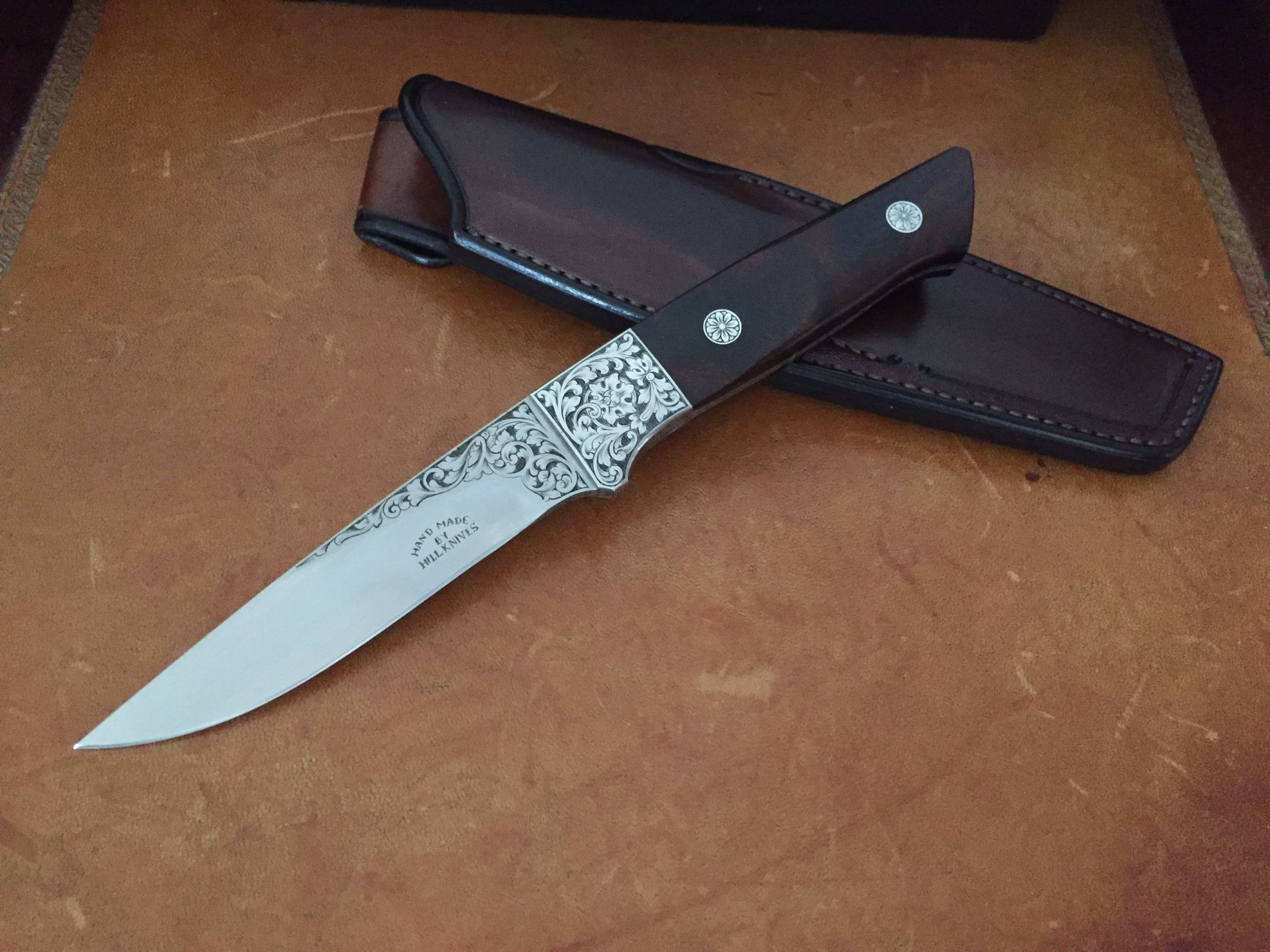 ATS34 semi-integral hunter, model 9102 with Arizona desert ironwood handle (1991, HK026) – Engraving in renaissance style by Edouard Vos (Belgium) – Sheath by Hendrik Nijhof (Nederland) – 2 gold engraved initials NR
Karl-Heinz Koob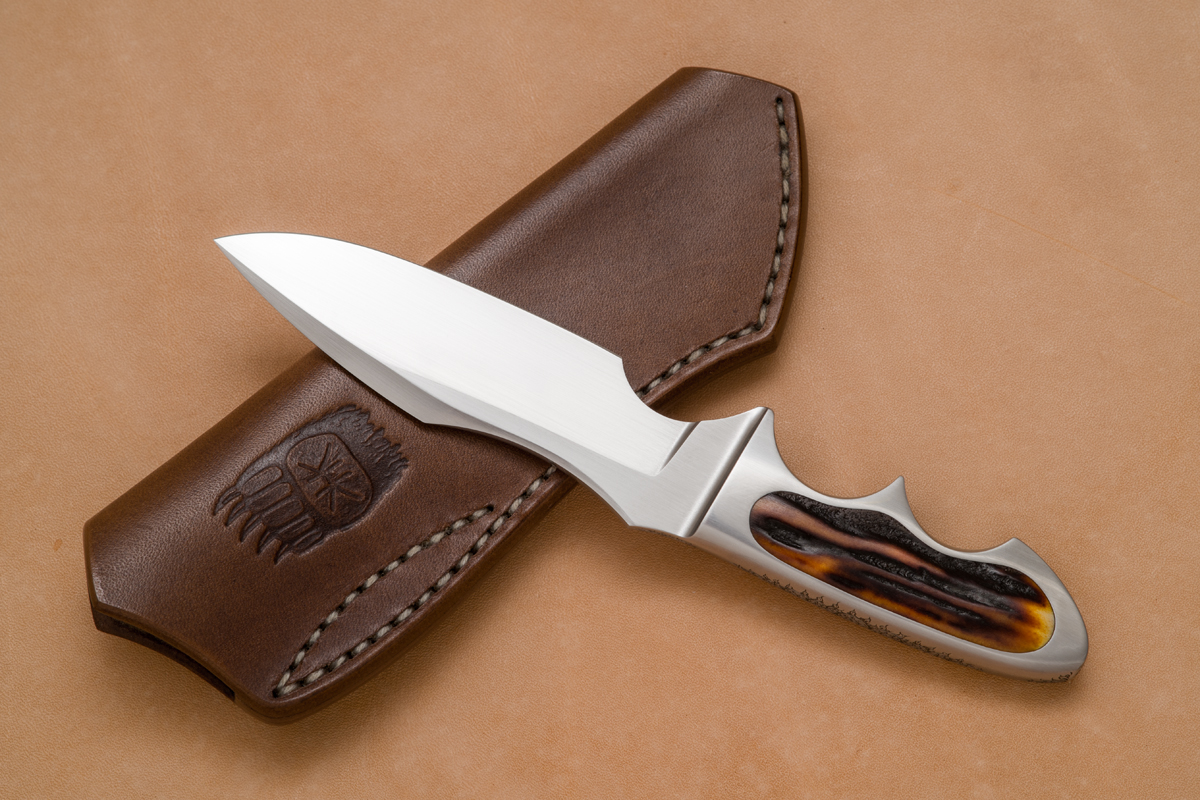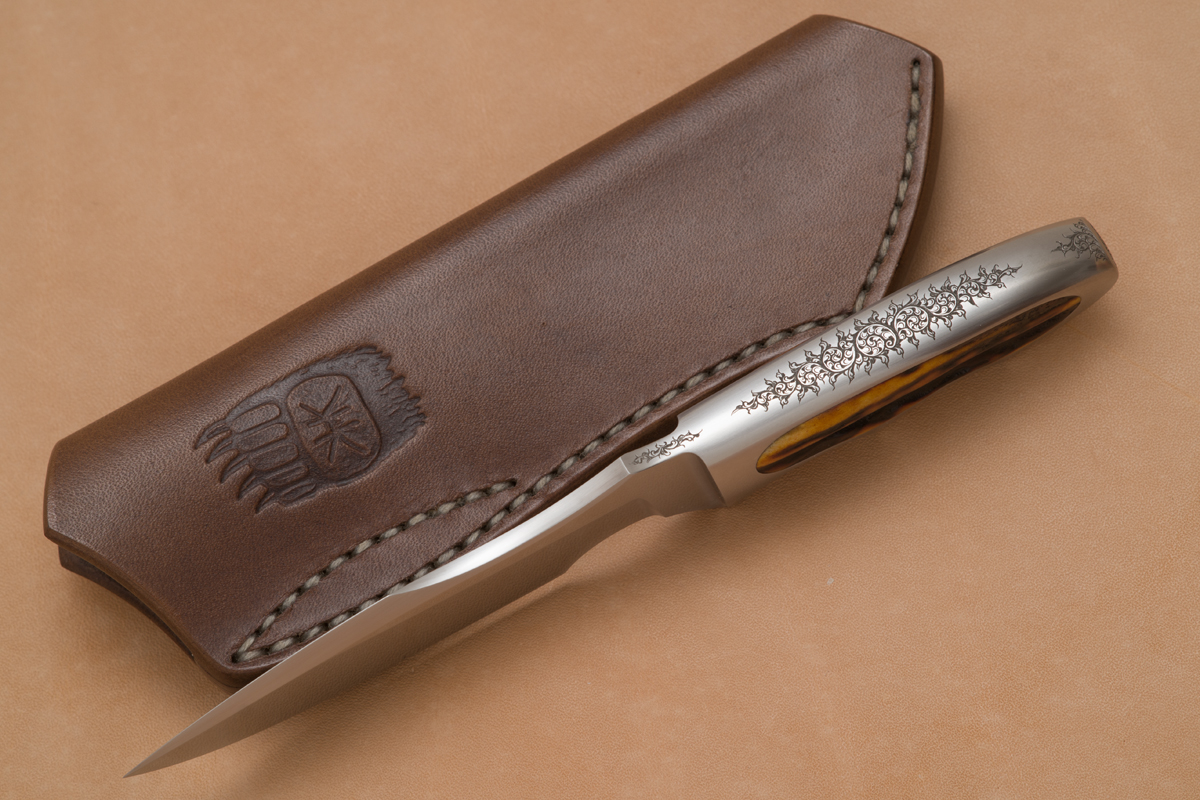 Interframe integral Taitafalk Anatomic (2018) – Michael Oke English Scrolls style engraving – RWL 34 steel -Overall 173 mm/blade 102 mm- Sambar stag interframe handle – Crossdraw leathersheath – Butt pic
Rodrigo Sfreddo M.S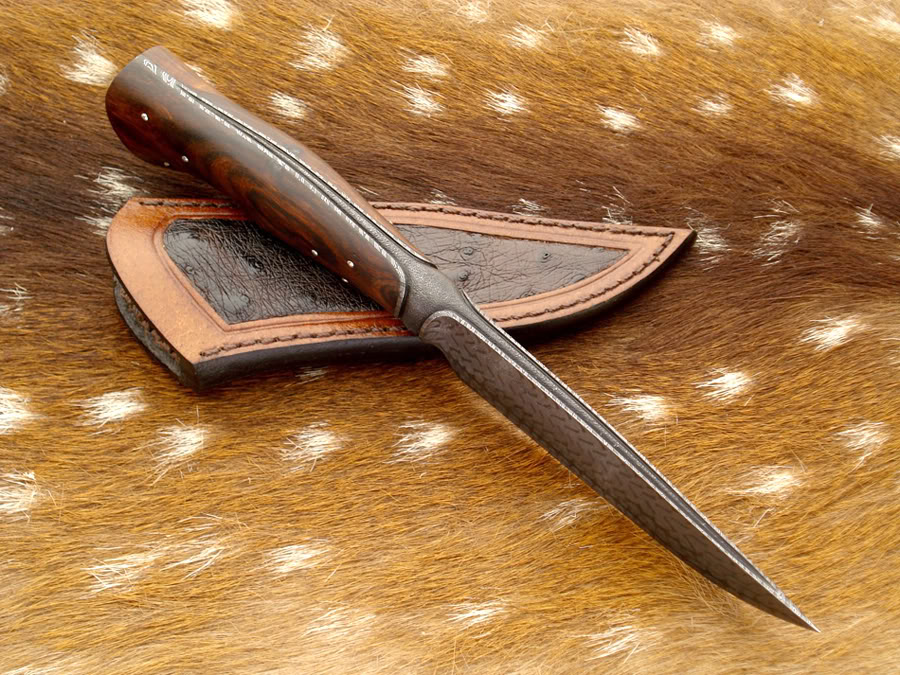 Full integral forged hunter "Petit Nouveau" – Blade 4 3/4″ – Overall lenght 9 1/4″ – 6 bars modified turkish damascus blade – Integral carved bolsters, spine, and full tang – Ironwood handle with stainless domed pin, – Leather sheath with ostrich skin inlay.
Pierre Reverdy – Laurent Gerdil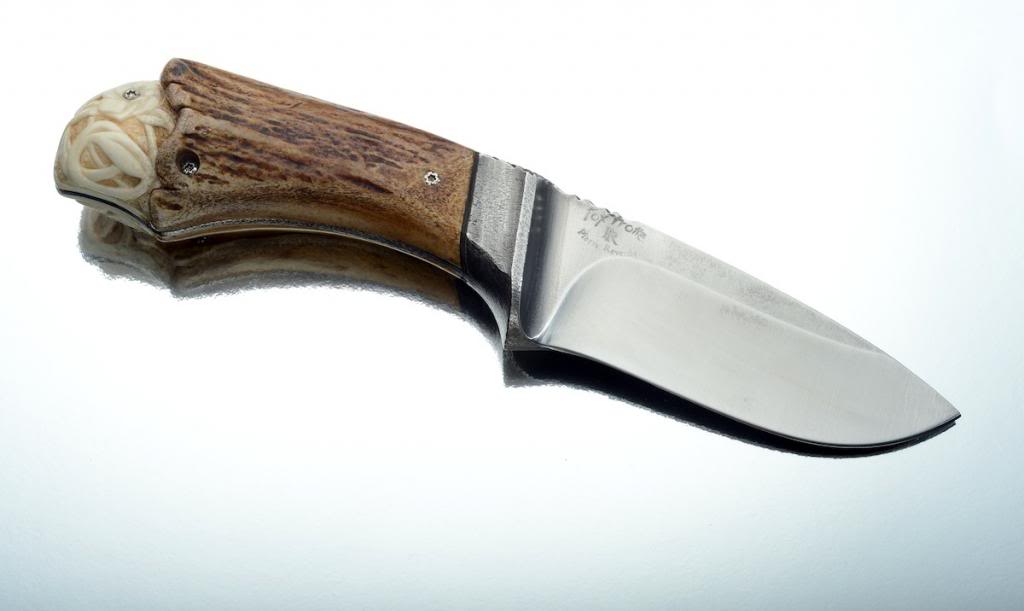 Semi-integral skinner "Fox Trotte" – Forged K190PM steel (2,2% carbon) – Sculpted stag handle by L.Gerdil – Leather sheath with lime-tree insert
Hill Knives (Frans & Albert van den Heuvel)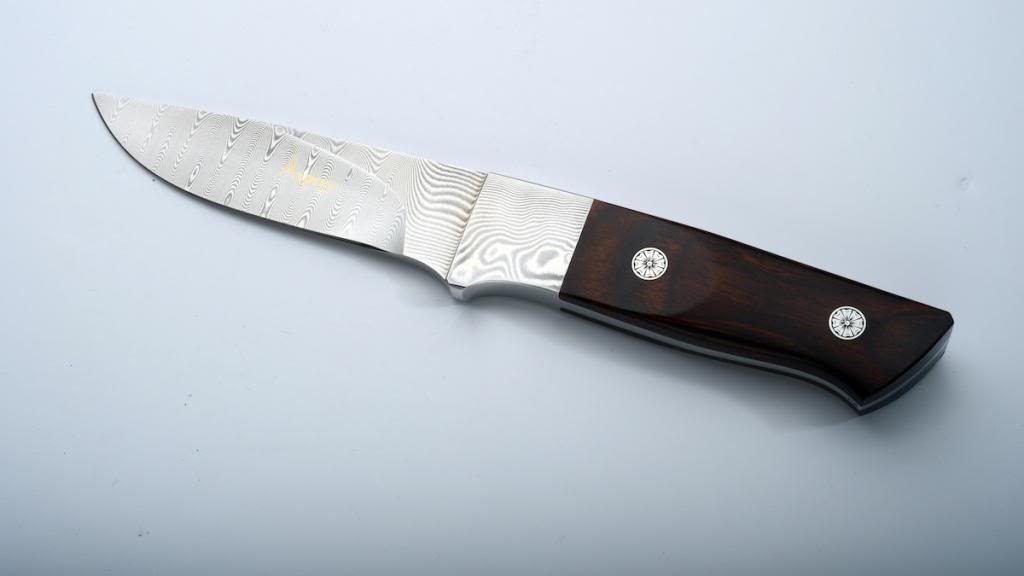 One of the only three pieces Hillknives made for Asprey of London ("Asprey" is engraved in gold by Edouard Vos from Belgium, as are the handle screws) – Model 9140 semi-integral – Schneider stainless twisted damascus – Handle : rosewood burgundy micarta from Pakkawood USA – Handmade sheath by Hendrik Nijhof (Nederland) – The knife has been made in 1991/1992 for Asprey and delivered to Asprey 1992-02-28 – Maker's signature is under the handle material, plus a small "hk" at the bottom of the knife.
Tharcis Holtzer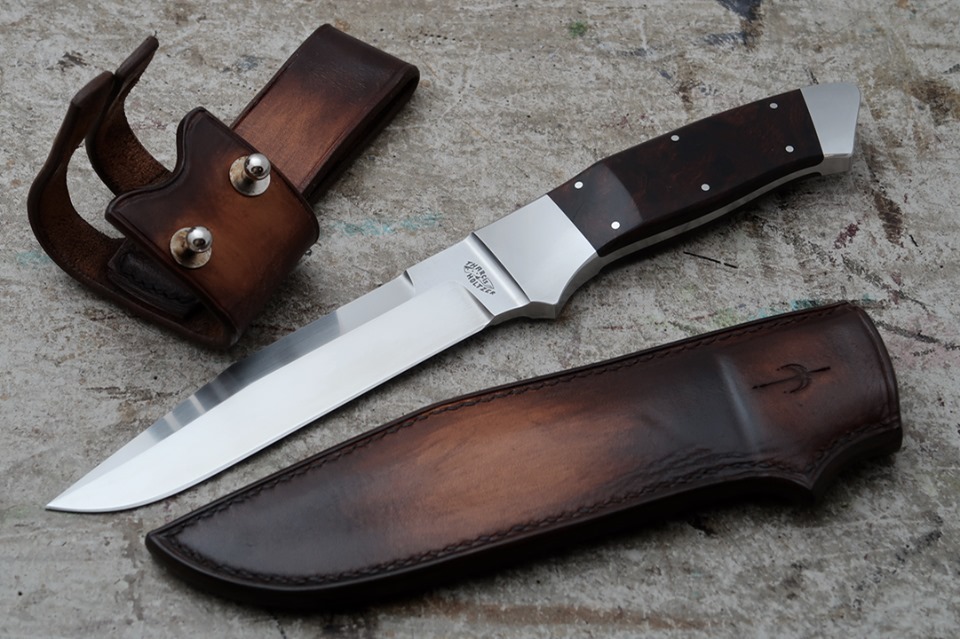 Integral ATS34 – Ironwood handle – Double hollow grind blade – More pics : alt view, press review
Karl-Heinz Koob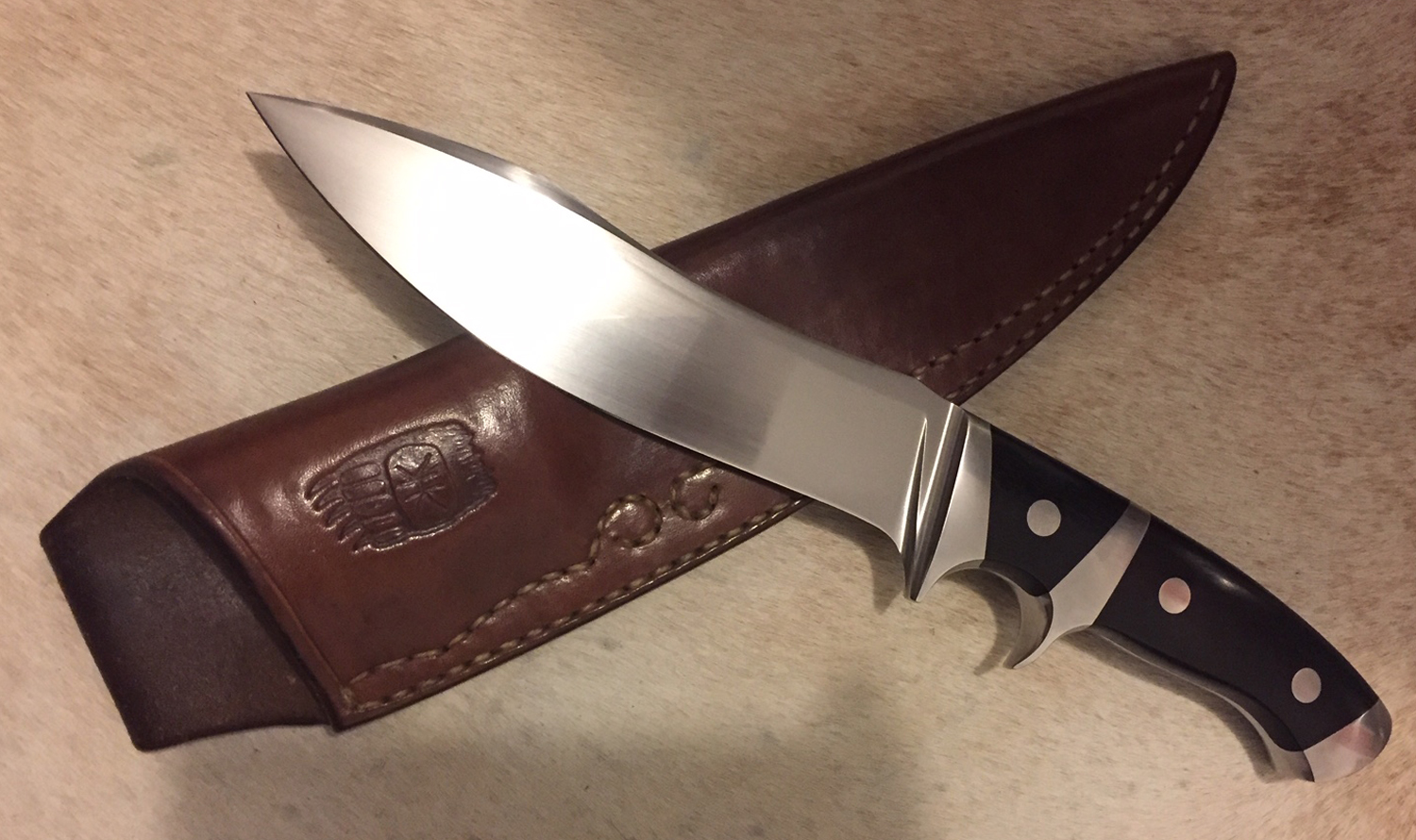 Full integral subhilt "Aquila" (1985) – 1.411 steel – Ebony handle
Opinel "Les Forgés 1890"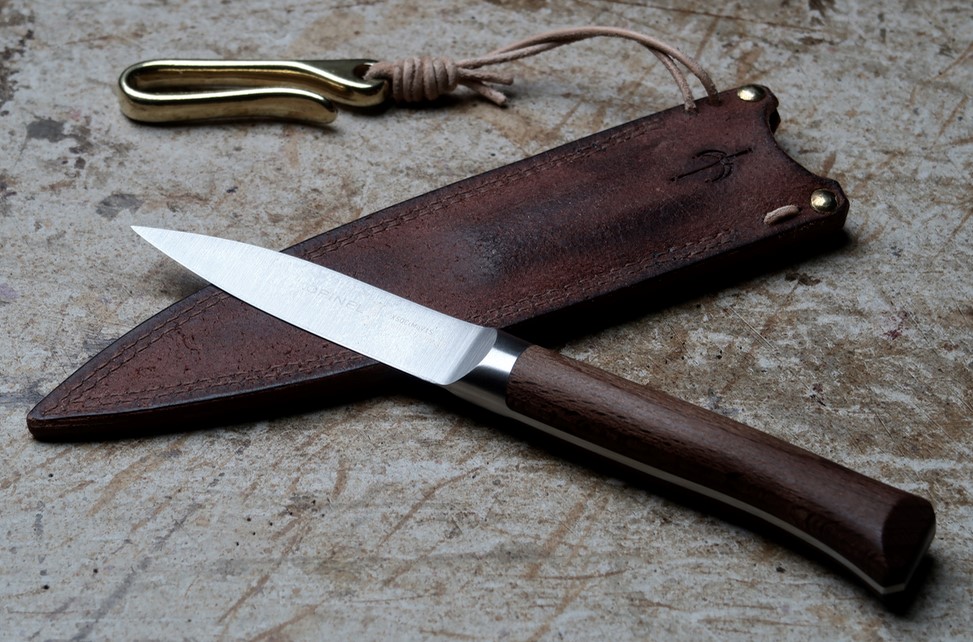 Small utility fixed knife – The cheapest integral piece in the collection ! – Sheath by Bertrand Montillet (Abzaroke) – X50CrMoV15 steel (56-57 HRC) – 80mm blade – Handle stabilized beech
Richard K. Hehn (non-integral)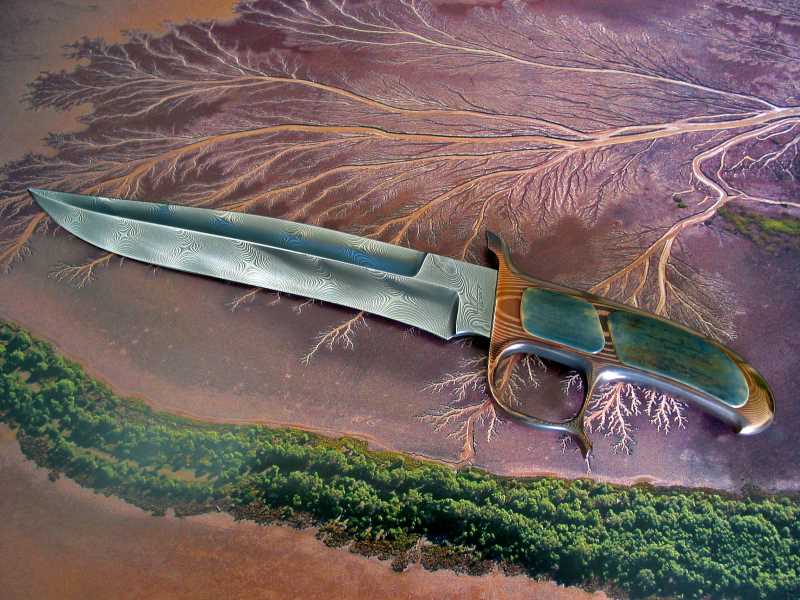 Twisted Stainless Damascus (Hehn-Damast) Fighter – Double hollow ground 220mm blade – Mammoth Ivory interframe handle (same damascus) with specific heat treatment resulting a copper color – Leather sheath
Philippe Villard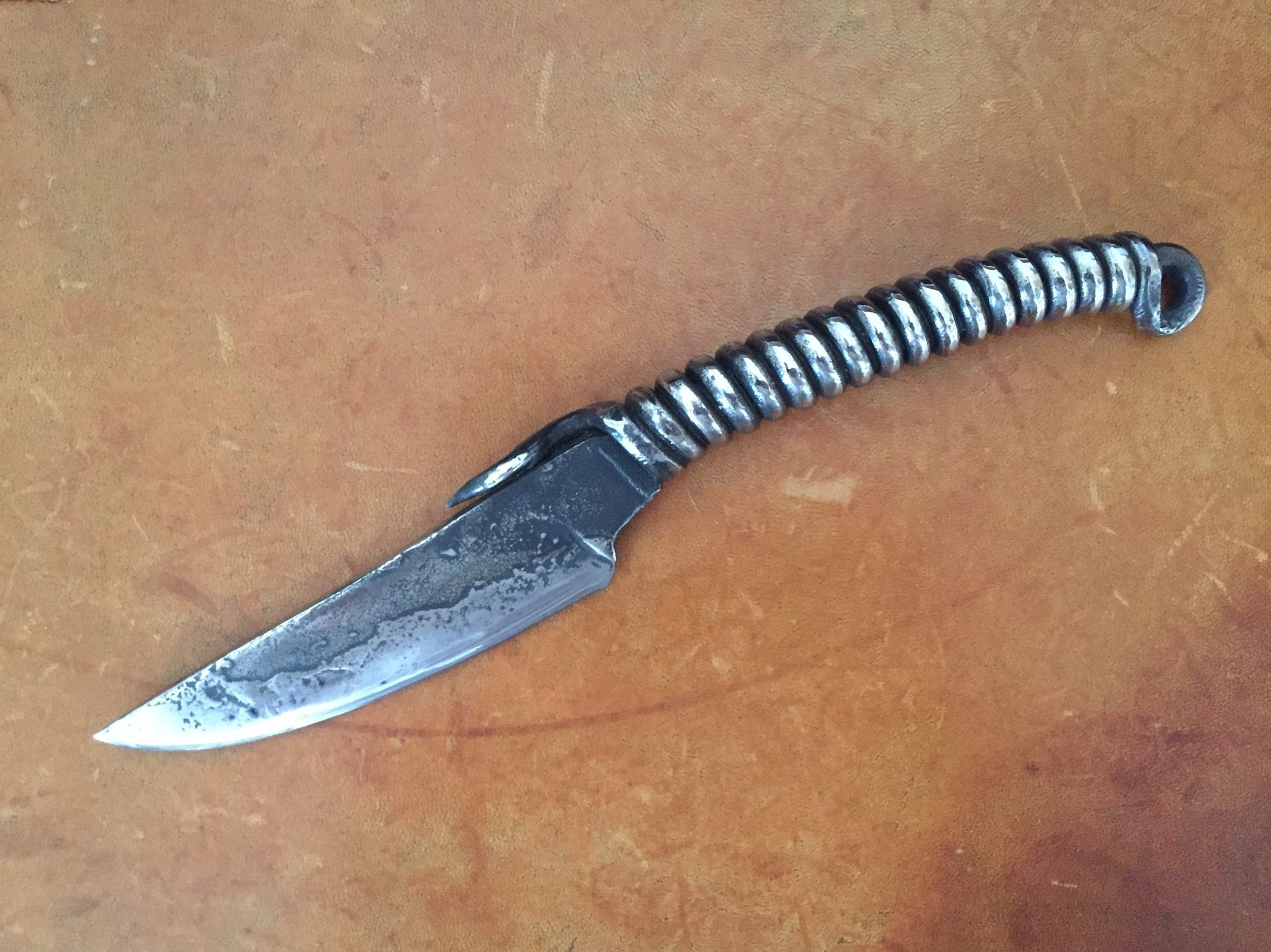 XC75 – Forged Full Integral